Looking to find out more about property investment in Glasgow?
If you're thinking there's some great investment opportunities in Glasgow to just snatch up, then you would be right. After all, they do say that Glasgow "smiles better" (remember that advertising campaign?).
But seriously; Glasgow has one of the best rental yields in the UK for investing, with plenty of good capital growth and loads of exciting new developments underway.
There's a reason why Glasgow was often referred to as 'the second city' in the UK and it's still one the countries strongest – it's bigger than Edinburgh, with a larger population and economy (the largest in Scotland, and the fourth largest in the UK, in fact!).
And, on top of all these great selling points, you'll also get more bang for your buck in Glasgow, as it's one of the least expensive cities in the UK to buy property.
NOTE: As the Landlord's Estate agent, we're planning on writing a series of these overview guides based on some of the best Scottish cities to invest in – and we wanted to start with this one!
Property values
Despite Glasgow having a huge economy, it's apparently the most affordable city to buy a property – and the second most affordable city to live in. Despite this, it also has the fastest growing house prices in the UK, so now is a good time to get in there.
The average house price in Glasgow right now is around £123,577 – which happens to be 15% higher than the beginning of the decade. We've actually put together a nice graphic of how values have increased in Glasgow over the years – check it out: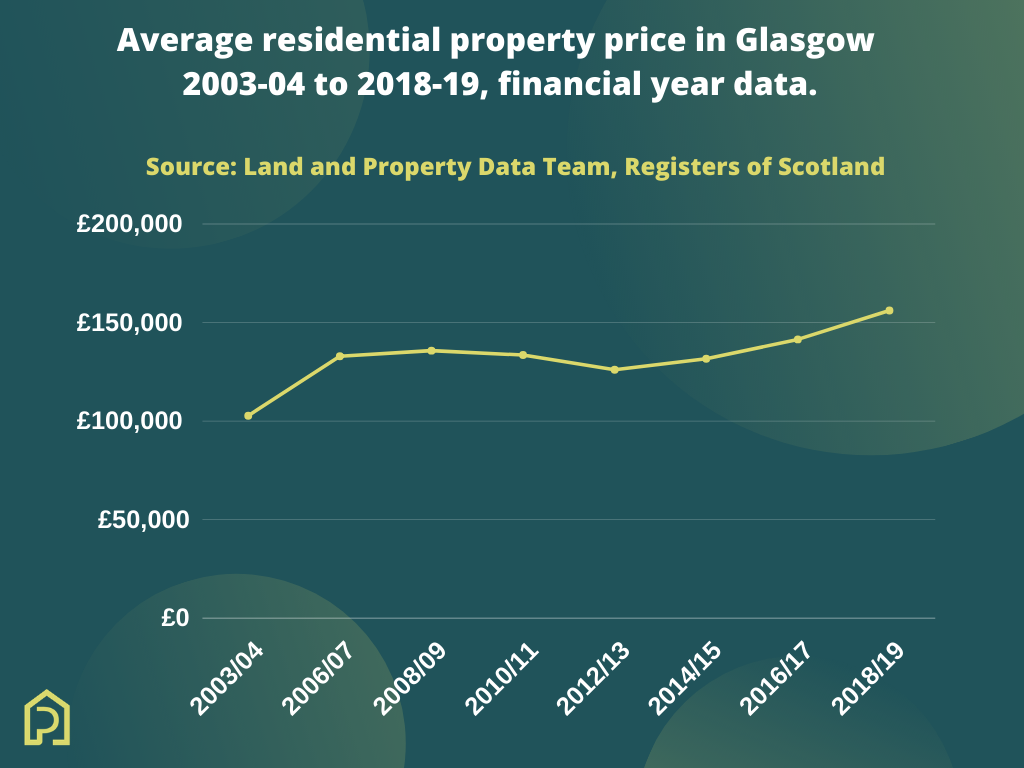 But back to getting more bang for your buck for a second. What I love about Glasgow is that you can actually buy two average houses for the same price as one in Edinburgh – or almost four in London. Now that's saying a lot! 
"As ever, the main drivers of property (supply and demand) will prevail in Glasgow and investors can then look forward to accelerated asset value growth in the years to come."

Quote exclusively from Martin Callaghan at Park Gate Investments at December 2020
You can even pick up a wee cracker of a flat from at little as around £30,000, if you know where to look. With rising property values, how long it'll stay like that is anyone's guess.
Yields
So, what's the picture in terms of yields?
Well, in Glasgow, the average yields you'll find are around 6% – 8%. However, they can go up much higher, and you may find yields of up to 10% in some locations.
According to the recent stats from Home.co.uk, the average rent in Glasgow is £771 per month, with the average time to let being around 31 days – unless you buy an already tenanted property, that is.
Rent has been steadily and consistently rising in the Greater Glasgow area, having increased by a cumulative 38.3% over the last nine years.
Jobs
Glasgow, being the economic powerhouse that it is, is packed full of highly skilled workers, making it a huge melting pot in terms of ethnicities and diversity. You'll find a lot of financial services jobs, along with business services, IT, and education.
It's actually been hailed as one of the most diverse and forward-thinking cities in Europe – which is really, really nice to hear. Glasgow's also home to some more globally competitive sectors, such as Health and Life Science, Digital Technology, Low Carbon, and the Creative Industries.
The average salary in Glasgow starts at just over £15k for a Career Advisor, and goes all the way up to £52,829 for a School Principal. As a Head Chef, you can expect to take in an average £20 per hour – or £8.50 per hour if you're a Dental Nurse.
Amenities
This city is packed full to the brim with music (c'mon, you know if you're going to a gig, you're probably going to Glasgow!), arts, theatre, leisure and sporting venues. It's also great for hitting the shops, with one of the biggest shopping centres in the UK.
There's also a very decent amount of tourism to the city, having been rated as in the top 10 world tourist destinations by Lonely Planet – alongside the likes of Chicago, Mexico City and Lisbon.
It's also going to be one of 12 host cities for UEFA Euro 2021 (previously 2020), which will undoubtedly attract a lot of tourists and attention.
Transport
Glasgow is an incredibly easy city to find your way around. It's built on a grid system, making it simple and compact to navigate – and so well connected to public transport.
You can either get to where you're going on foot, or via the plethora of public transport links – including the famously nicknamed 'clockwork orange' tube service (being near a subway stop also means higher rents, by the way). There's trains, buses, or cycle paths.
TIP: Check out more about getting around in Glasgow via the People Make Glasgow site – there's some great info.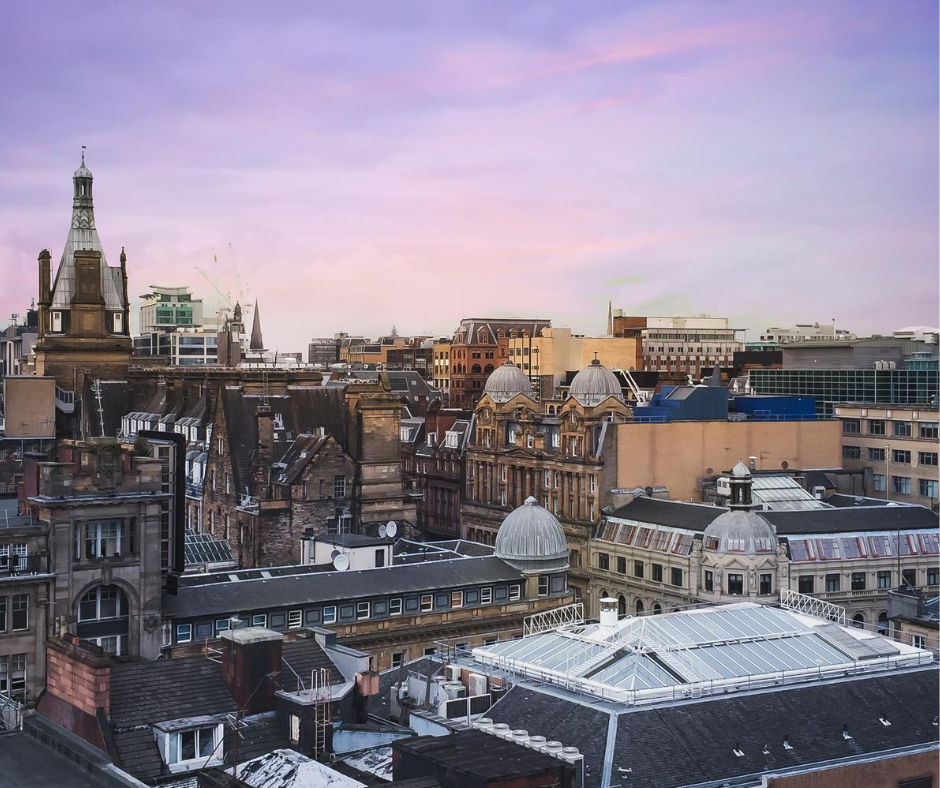 Variety
Glasgow is a property city, with a fab variety of different areas – each with their own distinct personalities – to look at investing in. It's bigger than the likes of Edinburgh, so you're always going to find internal pockets with massive industrial areas getting redeveloped.
This gives it a great advantage over other cities which simply don't have the space. The ship building areas are of particular interest when it comes to property investment in Glasgow right now, but take a look around first.
In other words, do your research. There are so many up-and-coming areas, like Shawlands and the G2 area (in the Southside), and East End suburbs like Castlemilk, Easterhouse and Ibrox.
Universities
Glasgow also happens to be one of the biggest student cities in the UK. The University of Glasgow alone has 27,000 students, with its main campus located in the West End (Gilmorehill) – and did we mention its £1billion expansion plan?
The University of Strathclyde is home to another 21,500 students, with its main campus located towards the north east of the city centre – and students more inclined to look for accommodation towards the East End and the Southside.
Glasgow Caledonian University – located in the city centre – is another big one, with 16,500 students. And finally, the University of Glasgow has plans for a new campus at Govan (one of our particular areas of interest) called the Clyde Waterfront Innovation Campus. Exciting stuff!
Quality of life
It's fair to say that Glasgow hasn't always had the best reputation for quality of life – with some parts being particularly poor – however, the city has been named the best UK city for millennials to live and work in.
Taking things into consideration such as employment rates, graduate work prospects, weekly earnings and the number of new businesses starting up in the city, Glasgow is right up there with the best of 'em!
For more detailed info about Glasgow's quality of life, check out this super handy graph from Teleport – and they're right about the weather being unpredictable! But, if you know Scotland, you know that's hardly a surprise.
Advice from the property pros
Like I mentioned, there are so many upcoming areas in Glasgow that make for interesting investment opportunities. Areas such as Govan Hill and Denistoun are becoming more and more popular, but whether you'll get value for money as an investor is another thing.
That's why we always recommend doing your due diligence, thoroughly researching the area, and visiting the property to ensure that you're investing in the right property for you.
If you're unfamiliar or it's your first time investing in Glasgow, here are some tips when attending a virtual viewing (the steps here are similar to the ones we'd recommend anyone carry out when unfamiliar with an area, and it's likely you'll attend a virtual viewing before a physical one).
TIP: We've also written a blog covering some of the main things to think about when investing in your next buy-to-let, post lockdown.
Need some more advice about property investment in Glasgow? We'd recommend speaking to a specialist estate agent, who can talk you through all of your options – such as buying a tenanted property rather than an empty one, and receiving instant rental income on Day 1.
In summary…
Thanks for reading, and we hope you've found this guide to property investment in Glasgow useful in some way.
If you're thinking of investing in property, you could do a lot worse than this amazing city, with massive industrial areas and redevelopment coming out of its ears! (Don't forget, it smiles better, too)
Want some more advice about property investment in Glasgow? We'd be happy to lend an ear – after all, they don't call us the Estate Agent for Landlords without a good reason.
In the meantime, happy investing.
Written by Ross MacDonald, Director of Sales & Co-founder of Portolio
Get in touch on 07388 361 564 or email to ross@portolio.co.uk