Curious about the benefits of releasing equity by selling your tenanted property?
There's a lot of uncertainty in the UK right now, and many landlords are experiencing a change in circumstances (our recent survey revealed that as many as 40% have changed their plans) that mean they may be exploring selling as one of their options.
If that sounds like you, it's important to know that you do have options – selling with vacant possession (the traditional way) or selling with your tenants still inside.
Should you wish to sell the traditional way, the law currently dictates you are required to provide your tenant with at least six months notice. In addition, you may need some extra time to get the property prepared for the market.
However, you may not wish to wait that long. So, is there an easier and quicker option? Absolutely.
It's an option that not everyone's aware of, but selling your property with the tenants still inside, as is, means that you'll be able to release equity without your tenants losing their home.
But that doesn't mean it's the right option for everyone.
As an estate agent specialising in tenanted property sales (in fact, the only landlord's estate agent in Scotland) we've broken down the benefits of selling a tenanted property – and the potential downsides.
What are the benefits of selling your tenanted property?
If you're looking to weigh up your options and get a better idea of whether selling a property with sitting tenants is the best choice for you, let's look at some of the biggest advantages first:
1. Sell with confidence
Evicting your tenants and putting your property up for sale on the open market can be quite a risky, time-consuming process that could lead to you losing money – especially if you have an empty property for months on end and no way of knowing when you'll get a good offer.
Selling your property with sitting tenants completely eliminates the risk that comes with selling the traditional way, so you can move forward in confidence. How? Read on to find out.
2. Maintain your rental income
Probably the biggest benefit of selling a tenanted property is that whilst you go through the process of selling, you can continue to receive rental income right up until the completion of sale.
This makes it a very attractive option for sellers who would otherwise hesitate to put their investment property or buy-to-let on the market, allowing them to release equity much faster, when they need it.
3. No void utility costs to worry about
Hand-in-hand with point 2 is the fact you won't have to pay any of the usual void utility costs that you'd have for an empty property whilst going through the selling process.
After all, your tenants are still living there – paying the bills and maintaining the property as normal – so nothing really changes. Well, aside from the tenancy agreement changing hands once the sale completes.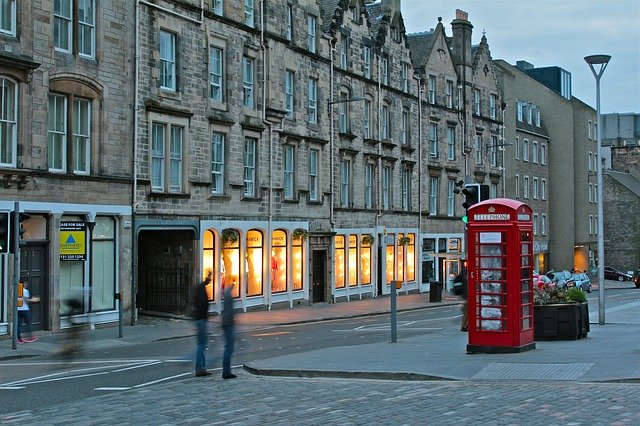 4. Sell your property as is
That's right; by selling your tenanted property, there's no need to worry about refurbishing, redecorating or repairing damage – in most cases, you can simply sell as is.
The buyer can also be safe in the knowledge that they're buying a property that's already fully compliant, so there will be no initial investment on their part to ensure the property is safe to move tenants into. That's a huge plus for them, too!
5. Ensure you get the best price
An estate agent who specialises in selling tenanted property on the open market can help negotiate the best deal for your property – usually fixed price and (often) above home report valuation.
Depending on the situation, you may even get a better price than you would have by selling your property empty – especially considering all the other costs you'll save on (as mentioned above).
6. Peace of mind for your tenants
Finally, let's not forget the tenants in all of this! It may be your property, but it's their home, and In most cases, your tenants won't have to move out. Very occasionally we do come across sales that occur with the new landlord looking to shake things up, but this is rarely the case.
Nothing has to change for them, and the tenancy agreement simply changes hands between you and the new landlord.
TIP: A good specialist estate agent can help you communicate with your tenants so they're aware of what's going on and happy to cooperate in terms of arranging viewings and the like.
The potential drawback of selling a tenanted property
It'd be remiss of us not to mention the one potential drawback when it comes to selling a tenanted property, but we always say it's really all about perception.
The drawback is that you may get slightly less than you would when selling your property empty.But, again, this is not always the case.
Why? Well, it's mainly due to the fact that selling an empty property the traditional way means access to a much bigger market, and the more emotional purchases that come from private owners.
For example, you won't catch a landlord viewing your property and getting all glassy-eyed over the thought of eating breakfast at the breakfast bar, or reading a good book in that nice spot by the window.
By selling your property with sitting tenants, you can remove the risk and still get a fair price.
Psst! It's also good to remember that not all properties and locations are equal. Some lower-value properties may actually struggle to sell if vacant.
Advice from the property pros
Thinking of selling your tenanted property, but aren't sure if it's right for you? The best advice we can give you is to speak to a specialist estate agent who's experienced in tenanted property sales. They should be happy to listen to your situation and talk you through your options.
Quite often we hear from landlords who find themselves needing to sell, but have a great relationship with their tenants. They always pay their rent on time, maintain the property well and never cause any trouble with the neighbours.
Especially right now when things are tough for everyone, they don't want to rock the boat and displace their tenants at this time – especially if they happen to be key workers. Selling with sitting tenants and no void period can be the best solution for everyone.
Before COVID-19, a landlord approached us looking to sell a property. He'd spoken to three estate agents, as well as us. We came back to him saying we could secure a certain price, which was favourable to what the others had said.
He was happy to sell his property tenanted, and decided to go ahead once lockdown began. The tenant was a keyworker and therefore still working, so paying the rent wasn't an issue, and we were able to sell the property on the basis that the buyer would receive rental income on Day 1 of ownership.
To sum it up…
We hope you've found this article helpful. By now hopefully we've managed to shed some light on the benefits of selling your tenanted property. It's a very effective way of releasing equity fast, without a lot of the time and expense of selling an empty property.
These are challenging times, and you may be considering all your options before you decide whether it's a good idea to sell. A good specialist estate agent should be happy to chat and give you some free, impartial advice.
If you're looking to get some advice on releasing equity by selling a tenanted property, or your current portfolio, please don't hesitate to get in touch.
We'd love to hear from you.
Written by Ross MacDonald, Director of Sales & Co-founder of Portolio
Get in touch on 07388 361 564 or email to ross@portolio.co.uk