Curious about some of the benefits of buying a tenanted property?
Whether you're looking to purchase a buy-to-let for the first time, or you merely want to add to your portfolio, buying tenanted property is not an option everyone's aware of.
Despite this, buying a property with sitting tenants does have plenty of advantages over buying an empty property…
After all, it can sometimes feel off-putting knowing all the hoops you'll have to jump through to get an empty property fully compliant and ready for tenants to move in.
Buying a tenanted property allows you to bypass all of that extra hassle.
So, if buying a fully compliant property with the tenants already inside, and rental income on Day 1 sounds appealing to you, read on.
Thought that might get your attention.
The benefits of buying a tenanted property
As one half of the Estate Agent for Landlords, I've outlined seven main benefits of buying a tenanted property, below – so you can decide if it's a good option for you.
1. Instant rental income from Day 1
Usually when purchasing a buy-to-let the traditional way, you'd have a period of time where you have to decorate, ensure the property is fully compliant, find the right letting agent… and then there's the wait whilst you actually find a tenant to move in.
One of the biggest benefits of buying a tenanted property, is that you can bypass all of the above. Consider it all taken care of, so on Day 1 of ownership, you'll get your first month's rent! It's really as simple as that.
2. A fully compliant, ready-to-go property
Because your tenants are already in the property (which is usually in a good condition and has been well cared for by the previous landlord), you won't have to arrange all the necessary landlord certificates and safety checks.
You'll receive copies of all of the necessary documentation, so you'll know when the next certificates are due – and if you decide to keep on the current letting agent, they'll be able to arrange all of that for you when the time comes.
3. Little to no capital expenditure
Because of all of the above, and the property usually needing little to nothing done to it when the lease changes hands, you'll have far less capital expenditure than you would when purchasing a buy-to-let the traditional way.
This means you can maximise your cash flow whilst keeping costs to a minimum; it's a win-win for everyone involved.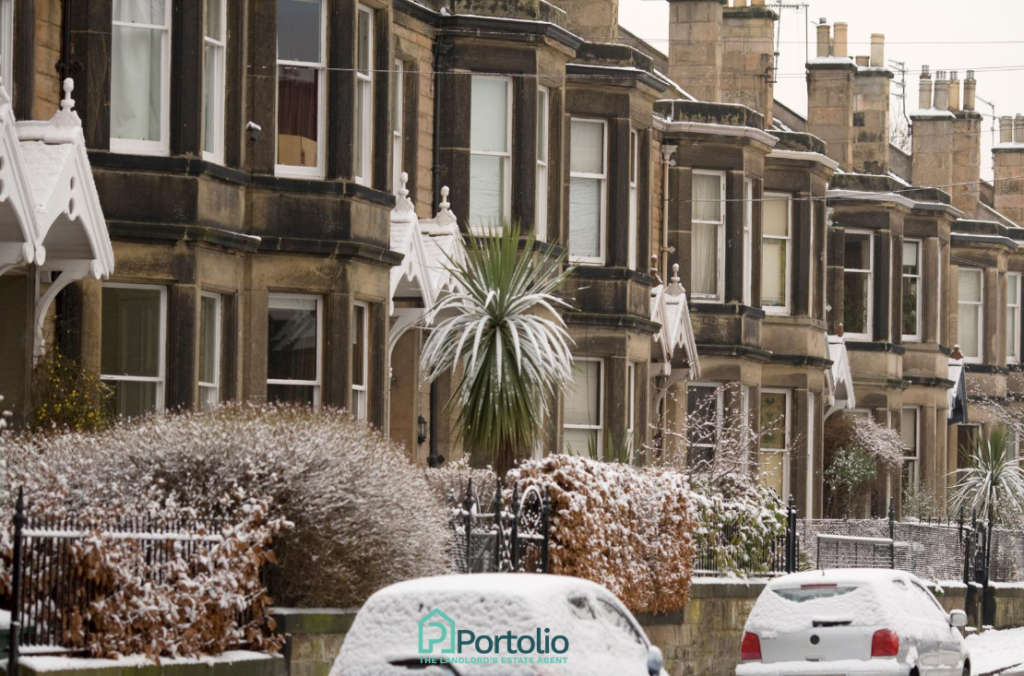 4. Know the rental price before you buy
Another great advantage of buying a tenanted property is that you'll know the exact rental price, and the yield, you're going to receive – before you buy. By taking a look at the figures, you can instantly decide whether a property is a good investment, and whether it'll work for you.
In other words, there's no guesswork involved, and you'll be guaranteed to receive that rental income upon completion of purchase. However, there's also nothing stopping you from increasing the rent later down the line – as long as it's in line with the market rents for the area.
5. Zero buyers' fees
Okay, this one is particular to your chosen specialist estate agent, but it's at least the way we do things here at Portolio. When you buy a tenanted property, we don't include any fees or hidden extra charges for buyers.
An estate agent for landlords usually means they're working for the person selling the property; hence, all fees are charged to the seller. However, we recommend to check with your chosen specialist estate agent first, as this may not always be the case.
6. Often fixed price, with no closing dates
Again, this is not always the case, but when buying a tenanted property you can often expect to buy at a fixed – fair – price, without the extra hassle and stress of the property going to a closing date.
We're currently selling fixed price properties at close to home report value, and because these properties are tenanted, it also means you have the added bonus of not competing against homebuyers.
7. Simpler than you think
Buying tenanted property isn't actually that complicated; in most cases, the tenancy agreement simply changes hands – and you can read more detail about how it actually works in our blog post on the subject.
The buying process itself is actually quite close to traditional estate agency methods, which means you'll still get a home report, photos and videos, physical viewings, and even state-of-the-art interactive video tours – so you can get a really good idea of the property.
Advice from the property pros
There are so many benefits of buying a tenanted property, which is partly why myself and Ross decided to start Portolio. It's our strong belief that increasing wealth and financial freedom through property investment should be a thing for everyone – not just for the few.
But, we understand that just because there are a lot of advantages, doesn't automatically mean it's the right solution for you.
If you want to learn more about buying a tenanted property, we'd recommend speaking to a specialist estate agent (like us!) who should be happy to answer any questions you might have, and talk you through the process.
You can also view some of the great tenanted properties for sale right now on our properties page – and even sign up to receive property updates for areas and types of properties that you're interested in.
In summary…
Thanks for reading, and I hope I've managed to shed some light on the benefits of buying a tenanted property, as opposed to the more traditional way.
Buying with sitting tenants just allows you to bypass a lot of the extra hoops, hassle and expenditure you'd normally expect when purchasing a buy-to-let. It also means you can receive rental income from Day 1.
If you'd like to learn more about the benefits of buying a tenanted property, feel free to get in touch with myself or Ross.
We'd be happy to help you explore your options in a no-strings chat. 
Written by Chris Wood, MD & Founder of Portolio
Get in touch on 07812 164 842 or email chris@portolio.co.uk