Are you thinking about selling your tenanted property during COVID-19, and are wondering about the effect it'll have on the overall sale?
In the face of something as unprecedented as coronavirus, I understand that you're thinking about how you're going to get through the here and now. After all, it's a challenging time, and we're all just trying to get through the day-to-day.
Whether you need to free up some funds you have tied up in property to keep your business going, or for any other reason (which is, incidentally, none of our business!), you're probably wondering whether it's a good idea to make a move to sell your tenanted property…
… or, if you can, whether you should wait it out.
With over 30 years' experience in the buy-to-let property market between us, we've seen a lot in our time – and believe me, we will get through this – which is why we thought now is the best time to provide you with some key advice on selling your tenanted property during COVID-19.
NOTE: This is a developing situation, so we're going to be updating this article as more information becomes available. The most important thing to remember is that we need to take COVID-19 very seriously. Stay safe, stay in doors, and keep your loved ones safe.
Is it possible to sell a tenanted property right now?
Yes, it absolutely is. Despite things not really seeming to be moving right now… things are still moving. In fact, we've just received an offer from someone looking to buy portfolio of tenanted properties without even having seen them. Investors still have confidence in bricks and mortar.
Buying without viewing isn't unusual for some of our sales, as buyers are not always close to the property to attend a viewing. We have made a video walkthrough for some of our properties, so viewers can watch this rather than attending in person.
We've also been approached by several landlords who each have a portfolio of properties, in the hope that they can sell with the tenants still living there – therefore greatly reducing the risk.
TIP: This is one of the biggest benefits of selling tenanted property – you continue to receive rental income right up until completion, with no upfront fees (as least, not through us).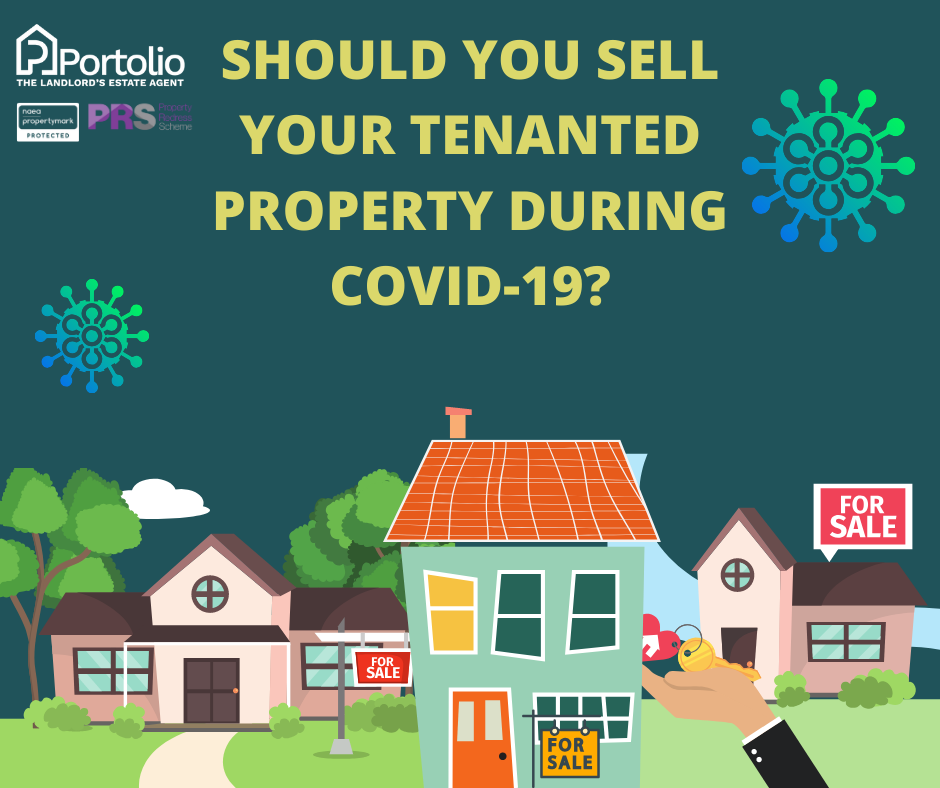 Should you sell your tenanted property during COVID-19?
At the time of writing this, we're essentially in lockdown here in the UK due to the impact of the coronavirus. So, the general lines of advice that were valid yesterday are less so today – and in a few weeks' time, they might be very different again.
Currently, we have several sales due to complete over the next three months, but in the next few weeks we're fully prepared to see significant disruption to the normal timescales in reaching completion.
That doesn't necessarily mean it's a bad time to sell property right now. Buyer demand is starting from a very strong position, and the supply of properties for sale is likely to drop, therefore reducing competition and increasing demand.
TIP: Selling with sitting tenants doesn't pose some of the logistical challenges a home buyer would have; there's no moving in or handing over of keys – essentially, no chain to impact on the sale.
We're also very unlikely to see any major crash in prices, according to Stephen Maunder of Which (via Buy Association):
"A rise in the number of people self-isolating could mean fewer properties becoming available, and thus fewer buyers viewing and bidding on homes. In short, more people will be staying put for longer.
"Fewer transactions could see house price growth slow right down, but it's highly unlikely we'll see any major crash in prices, and – as with Brexit – the market will eventually pick up pace again after a period of uncertainty."
So, how can you sell a tenanted property right now, even in lockdown mode when we're currently facing so many restrictions?
Well, there are some things that can be done…
How selling a tenanted property can work through COVID-19
Firstly, you're going to need someone who's really experienced in selling tenanted property. Let's call them a specialist estate agent (i.e. someone who specialises in selling these kinds of properties).
1. Ensure your property is fully compliant
Beforeyouconsider any of the following,it's important to confirm if your property is fully compliant or not. If you're using a letting agent, you shouldn't have to worry about this part.
However, if you're at all unsure of whether your property complies with any or all of the current regulations, any good tenanted property sales specialist can guide you through the necessary process.
2. No home report? No problem
Normally, you'd get a home report so that your tenanted property can be sold on the open market. If you already have a recent one of these, and nothing in your property has changed, then this should mean you're still good to go.
If you don't have a home report, and you're unable to get one during current circumstances, luckily there are other things that you can do to get around this – like selling your property off-market (which we're about to discuss in more detail, below).
A good specialist estate agent should be able to offer you a free desktop valuation of your property, based on the market conditions, and the local area and the historic values – as well as subsequent sale prices of similar properties nearby.
This is all done remotely, without requiring access.
This will be enough to get the ball rolling – even if you don't decide to follow through with any of the other steps yet.
2. Communicate with your tenants
From that point, and if you decide to go ahead with selling, your specialist estate agent should be able to support you in your communication with your tenants, to help set their minds at ease (you can learn more about how we do that via our recent case study).
It's absolutely essential to let your tenants know what you're planning, and that they will (most likely) have nothing to worry about – as nine times out of 10, selling a tenanted property means they'll be able to stay in their homes.
It's so important that your tenants are on-side for things to go smoothly – even if it's impossible to conduct viewings right now due to the current situation.
3. Source photos and as much info as possible
Getting access to the property to take marketing photos right now is nigh-on impossible, and even once restrictions are lifted, it might not be advised. However, a good specialist estate agent should be able to acquire photos from your letting agent, if applicable.
If you don't have a letting agent, you may have had some marketing photos taken to previously, or you may even be able to get your tenants to take some photos to send to you in this unique situation.
Once your specialist estate agent has gathered up as much information, images and documentation as possible (whilst obviously keeping track of current developments) it's time to consider what we're going to suggest next…
TIP: Thanks to COVID-19, virtual viewings are now a thing! If you do have a home report and are looking to sell on the open market, consider virtual viewings to allow potential buyers to get a look at the property without even stepping foot inside. (Bear in mind, this may not be possible with some of the tighter restrictions in place right now)
4. Consider selling off-market
Now, you may be looking at the words 'off-market' and thinking that might mean showing your property to one or two people, and maybe not getting as good a sales price – in this case, you'd be wrong.
A good specialist estate agent will have all the right tools – including a database full of serious investors just waiting to see your property – to be able to negotiate a good off-market deal for you. Despite it never once gracing the front page of well-known property listing sites!
And with nothing to pay until a sale price is agreed, it could be worthwhile testing the water and seeing what happens.
However, all that being said, we know it's not the best time to sell. There's no point in suggesting it is. All this article is saying is that it's not impossible, and a good specialist estate can give you a lot of advice at this time.
Certainly, you might be best to wait until the restrictions are lifted – depending on how urgently you're looking to sell.
Advice from the tenanted property pros
What with all that's going on, we're definitely expecting to see a slowdown in activity – however, the fiscal crash of 2007/2008 hasn't happened, and we don't expect it to happen.
Despite things being in lockdown right now due to coronavirus, it doesn't mean you're unable to sell your tenanted property during COVID-19 – or at least get the ball rolling to do so, depending on which method of selling you wish to take.
We'd recommend speaking to a good specialist estate agent who has the right experience in tenanted property sales, and seeing how they can help. It may even be that you're not sure whether selling your tenanted property is the right step for you at the moment.
At the moment, we're still open and dealing with enquiries here at Portolio, whilst constantly reviewing all the advice the UK government is providing. Just remember to stay indoors where possible, and look after yourself – everyone's health is the most important thing right now.
To sum it up…
These are challenging times, and you may be thinking about selling your tenanted property during COVID-19 for a number of reasons.
Luckily, a good specialist estate agent should be able to help you get the results you need – or even just give you some advice to make an informed decision on the best next step for you.
Remember, this is a constantly evolving situation, so we're going to do our best to update this article where possible. We're continually speaking to mortgage brokers, surveyors and solicitors to stay abreast of what's really happening in Scottish property RIGHT NOW.
If you're looking to get some advice on selling a tenanted property, or your current portfolio, please don't hesitate to get in touch. And most importantly, stay safe out there!
Written by Chris Wood, MD & Founder of Portolio
Get in touch on 07812 164 842 or email to chris@portolio.co.uk