Today is the day many of us have been waiting for – the Scottish property market has reopened, and we can now get back out there (with correct safety precautions, of course) to view, invest, sell, and borrow.
We know from our recent Property Pow Wows (via Zoom) that this is welcome news to a lot of property investors in particular, and there's a certain excitement in the air as we look to the new opportunities this brings.
Saying that, things won't be entirely going back to normal – rather, there will be a 'new' normal; one that will definitely require quite a decent period of adjustment.
We've already discussed our own property forecast, and how we've seen things evolve in property recently – but what will the 'new normal' actually look like in practical terms?
In other words, what do you need to know right now? Will there be a crash (spoiler alert: it's unlikely), or will prices remain the same – and what form will viewings take now?
Well, I know that myself and my business partner, Ross (the other half of Portolio) have our face masks, gloves and hand sanitiser at the ready to get back out there and start conducting viewings again – and we're more than ready to rise to the challenge.
But I want to take this opportunity to prepare you for what the Scottish property market reopening will look like for you, and what to expect, in terms of investing, viewing, selling, lending, and more.
… For viewings
Virtual viewings are the new normal
In a world where physical viewings completely came to a halt, the demand for virtual viewings went off the scale. And what's more? They're here to stay. So, you can expect to attend virtual viewings despite the fact that restrictions have been lifted.
TIP: Unsure of what to expect from a virtual viewing? We've laid out some advice via our blog, '9 Tips When Attending (Live) Virtual Viewings'.
Physical viewings will be for serious buyers
It's likely that the new rigmarole of physical viewings will be reserved only for serious buyers who have done their due diligence, thoroughly researched the home report, viewed the images, video and floorplans, and have gotten all the main questions out of the way first.
It's understandable, as a fair amount of time needs to go into setting everything up for a physical viewing (especially if the property is tenanted and agents have to arrange for the tenants to vacate the property). There's also arranging travel, PPE, and other protective measures.
Ahead of a viewing, you'll find that every door should be open (so viewers won't have to open them), the lights on, and time should be limited to just 15 minutes for one person at a time who will be asked not to touch any surfaces.
… For property investors
Excitement is in the air
There's a real buzz at the moment for investors who are excited about the opportunities they're going to be presented with as things resume on the open market. Before lockdown, there was a bit more scarcity, and it wasn't always easy to get hold of good investment properties.
Now buyers can get back to enjoying some fab investment opportunities, as there's nothing like good old fashioned bricks and mortar when it comes to creating wealth, whether as an angel investor, or buying yourself.
It's also one of the most attractive options when it comes to alternative income streams, and property prices have historically continued to increase over the years, making it a good long-term investment.
As you can see in the graphic below, the average house price in Glasgow has risen by just over £172,000 between 1995 and 2017: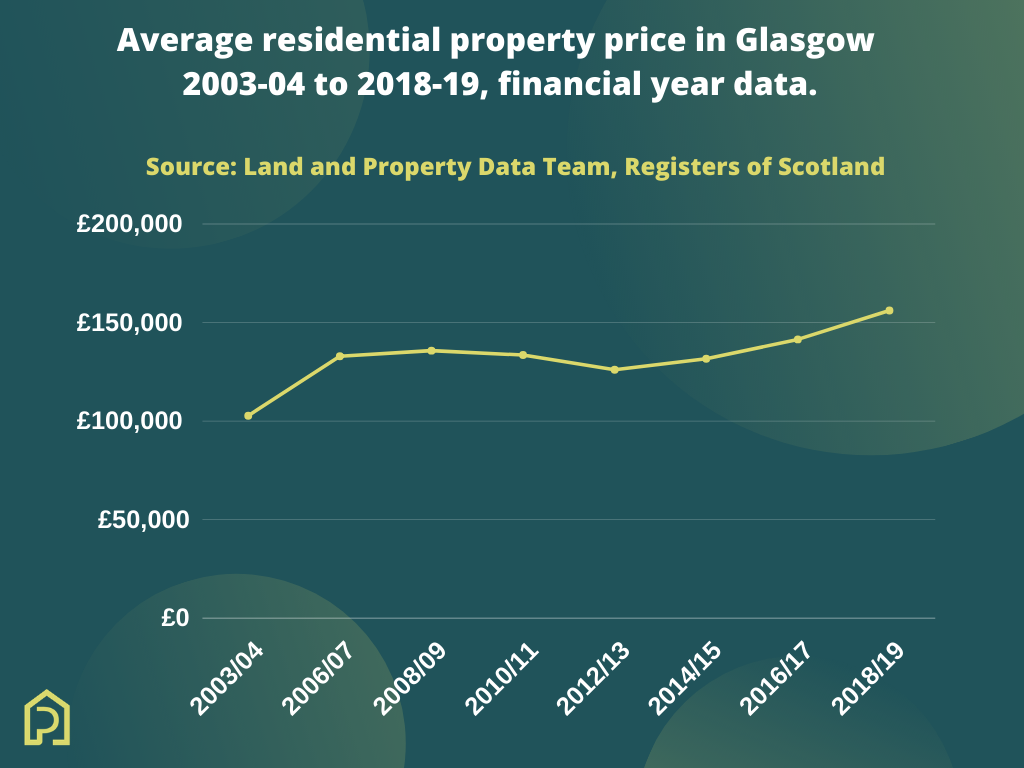 There's new mortgage products coming back on the Scottish property market (more about that later), the bounce back loan, and money saved elsewhere, making it a great time for people to dip their toes in the water, or just get back out there.
Having spoken to a lot of investors in our Property Pow Wows recently, we know a lot of them are ready to go, and there's a lot of optimism in the air for getting some great deals.
A drop in annual transactions
One of the other things we've been hearing recently is that there'll be a reduction in properties brought to the market, leading to a decrease in annual transactions due to people's motivations and worries about the current market.
The spotlight is especially on sellers who may be concerned about not getting a good price for their property right now.
Saying that, we're about to see a much more active period in the next 3 – 6 months, with a waiting list of people looking to view, and buy – and seeing this flurry of activity is something that can certainly motivate sellers to get their properties on the market.
On top of that, some people like to talk about the 'three Ds' – debt, divorce and death – and how they bring property to the market. So, don't worry, property investors; due to these factors there should always be properties becoming available.
Speculative talk on LBTT holidays
We've been noticing a lot of talk about stamp duty – or LBTT (land and buildings transaction tax) holidays. This is pure speculation, and we'd urge caution if you find yourself thinking of holding out for a window of opportunity before progressing with any property deals.
Although we're seeing some pressure to try and push this through, especially down in England, it's very unlikely that it'll happen.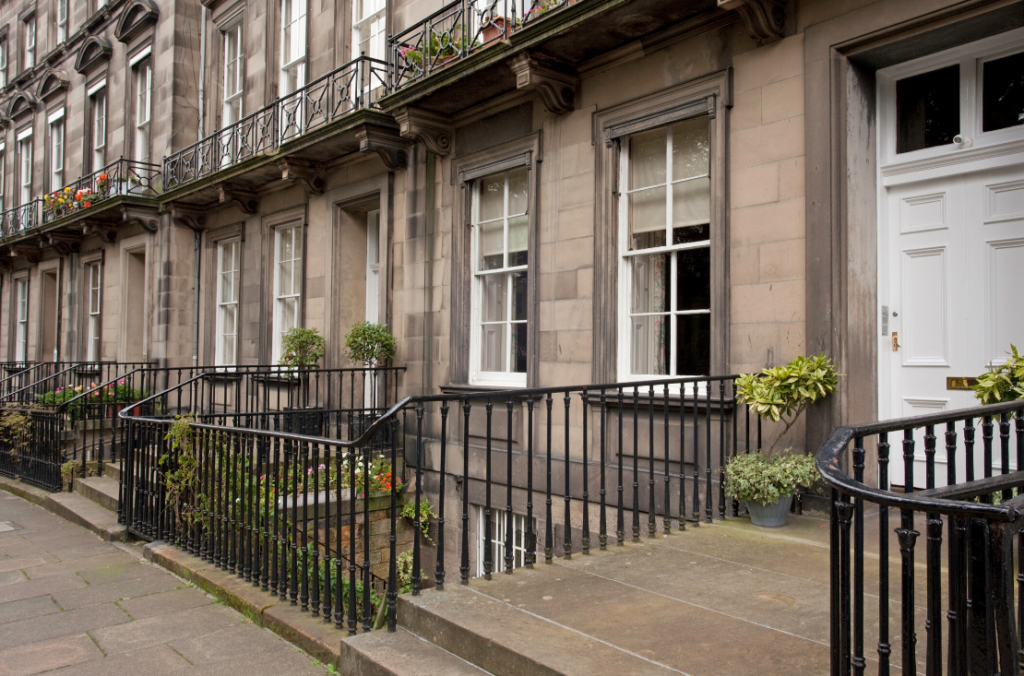 … For sellers
Time to get back on the market
Now that the Scottish property market has reopened and estate agents are bouncing back, you'll also be able to sell property in the usual fashion; that is, by acquiring a home report and marketing your property with a listing, virtual viewings (like this one!), and – for serious buyers – physical viewings.
It's true that you'll have a lot more hoops to jump through when arranging surveyors and the like (more about that below), but you'll find companies are providing detailed guidance to help get you all set to get the ball rolling for selling your property.
The biggest takeaway here is that you'll be able to access all of the essentials you'll need to get ready to accept offers on your property – even if that property is tenanted.
Selling with sitting tenants is still an option
In fact, if you have a tenanted property you're looking to release equity from, selling with sitting tenants may be your only option due to the six months' notice period currently enforced by the government (to be reviewed again in September).
It's actually an option not everyone is even aware of, but the various benefits mean that you'll be able to sell your property as is (no need for redecoration), whilst receiving rental income right up until completion of sale – eliminating much of the risk.
During this transitional period, there will still be the same sort of hoops to jump through (at least in terms of surveys and viewings) as selling an empty property, but if you need to release equity in your tenanted property, it can be done.
It's not necessarily the right option for everyone, but a specialist estate agent should be happy to listen to what you're looking to achieve, and talk you through your options so you can decide if this is the right decision for you.
… For surveyors
Surveyors are providing guidance
Most surveyors are well-prepared for re-entering properties, having laid out some very detailed guidelines for sellers, as well as being equipped with all the necessary PPE they'll need to access properties.
These guidelines include confirming both the seller/resident and themselves have no COVID-19 symptoms, ensuring that pets are removed or shut away, and that all doors (including meter cupboards) and some windows are open.
They also recommend that answers to a specific list of questions are pre-prepared, so the surveyor can spend as little time as possible in the property whilst strictly adhering to social distancing rules.
Home report values will hold
There's a lot of speculation about home report values being lower after lockdown, but this seems completely unfounded and for now, values should remain the same as they were prior to COVID-19.
This is because surveyors can only go by the data they have on the system, rather than making personal judgements. We expect that for now, values will hold. It's only in around six months' time we'll be able to tell if values have gone down at all due to COVID.
… For lending
An increase of desktop valuations
A growing number of lenders are turning to desktop valuations, which we expect to see quite prominently as surveyors work to clear the current backlog caused by lockdown.
Desktop valuations are a good way to get round the need for physical inspections, and involve looking at limited or indirectly sourced information – such as property values in the nearby area – to arrive at a realistic valuation price. All carried out from a desk (hence the name).
More products on the market
The good news is that we're seeing more and more mortgage products on the market, with the latest rates coming in at between 75 – 85%. Saying that, there has been a high demand for 90% LTV loans, causing lenders to temporarily withdraw them from the market again.
This means that more buyers will have access to funds that'll allow them to invest and get into the property game. Just be aware that taking a mortgage holiday could affect your future chances of being approved for a new mortgage.
… For the Private Rented Sector (PRS)
A slight oversupply
Many landlords have experienced tenants moving out over the lockdown period, due to the effects of COVID, and are now finding themselves with an increase in void periods whilst they re-let the property.
Because of this, we expect a slight oversupply, which could see a dip in rents over the next year. This should be self-adjusting, with void periods falling once again, and rents evening out – so, not a long-term issue for landlords as the PRS starts to recover.
Saying that, we are hearing stories right now about renters queuing up around the proverbial block (we mean virtually) to get their hands on flats – which is a good sign!
NOTE: For tenants that have been on housing benefit, the welcome increase in the local housing benefit should hopefully ease some of the pressure.
Fewer short-term lets
Because of the recent hit holiday let owners have taken with short-term lets, we're going to see more and more of them moving into the long-term market. And with most of them having been kept to a very high standard, they could signal some hot competition for landlords.
NOTE: Student lets is the other reason we may see oversupply, with some HMOs predicted to potentially be empty until January.
Advice from the property pros
Our advice is that if you're looking to invest in a property, don't wait on prices coming down to take those exciting new opportunities; it's unlikely to happen. And if you're a seller, don't be afraid that you won't get a good price right now, as pre-COVID values will hold.
In any case, speak to a specialist estate agent who'll be happy to listen to what you're looking to achieve, and provide you with some free, impartial advice to help you get there.
We've spoken to a few people now who are looking to find a way to do some property investment over the next year – and it's our plan to do the same.
A few of our clients are also releasing equity right now, for a plethora of reasons. One client in particular is looking to buy a new home down south, but because she's currently self-managing her buy-to-let, selling seems the most prudent solution.
Now that viewings are starting up again here at Portolio, we have a duty of care to ensure we take all the precautions to keep our clients and their tenants safe, as well as keeping us safe as a business.
To sum it up…
Thanks for taking the time to read this blog. We'd love to hear your own opinions on how you're feeling about the Scottish property market reopening, so feel free to get in touch – you're even welcome to join us on one of our Property Pow Wows!
If you're looking to invest in a property, don't hesitate to take that leap now that plenty of exciting opportunities are presenting themselves. Likewise, if you're looking to sell your investment property, don't be afraid you won't get a good return at the moment.
If you'd like to learn more about buying or selling tenanted property, feel free to get in touch with us today.
As experts in the Scottish property market, we'd love to hear from you!
Written by Ross MacDonald, Director of Sales & Co-founder of Portolio
Get in touch on 07388 361 564 or email to ross@portolio.co.uk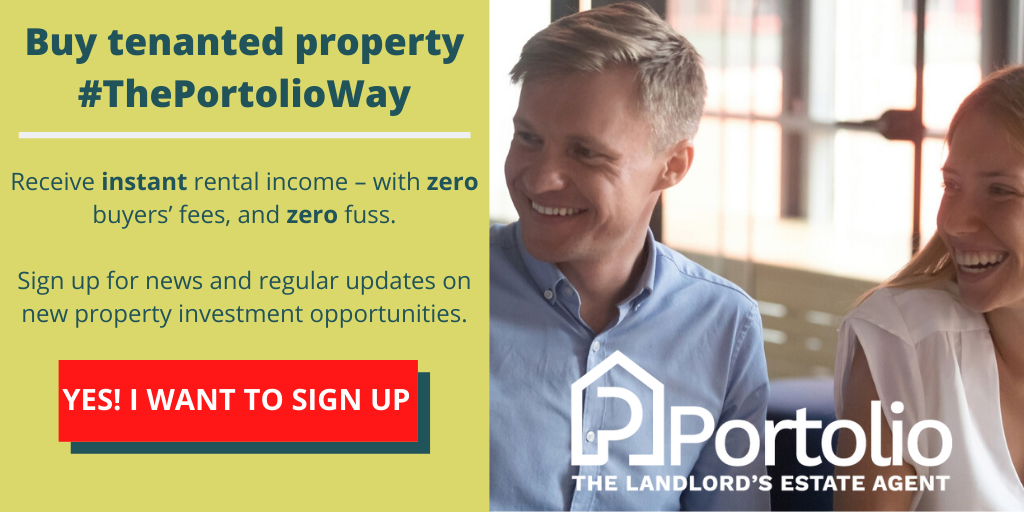 Other blogs you might be interested in reading: