Are you a landlord (or future landlord) looking into property investment in Edinburgh?
Packed full of character, and brimming with scenic views, culture, and some fabulous historical architecture, our nation's capital seems to have it all, as one of the most popular and most visited cities in the UK.
With strong capital growth, and some great property hotspots that are thriving as part of the city's continued regeneration, Edinburgh provides some great opportunities for secure and lucrative property investment.
As one half of Portolio, the Estate Agent for Landlords, I happen to know Edinburgh like the back of my hand, and have years' of experience in property here. So, what is there to know about property investment in Edinburgh? I'm going to guide you through all you need to know.
NOTE: As the Estate Agent for Landlords, this is part 2 in a series of overview guides covering some of the best Scottish cities to invest in. You can check out our overview of property investment in Glasgow here.
Property values
Property investors who express an interest in Edinburgh might (or might not be) surprised to see that average prices are some of the highest in the UK. According to Hometrack, the current average property price is £229k with a 3% rise over the past year.
That doesn't mean there aren't some superb properties in a price bracket closer to £100k, if you know where to look. The average price mentioned above includes the most expensive streets in Edinburgh, like Ann Street where you can expect to pay around £1.6 million for a house.
If you've already started your research by looking at currently available Edinburgh property listings, you've probably already found some great little investment properties starting from around £100k.
Yields
Interestingly, Edinburgh is home to five out of the top 10 postcodes for rental yield in Scotland, including Trinity (average yield of 6.23%), Dalry (average 6.64%), Stockbridge (average 6.19%), Leith Walk (average 6.02%) and Newington (average 5.99%) – although they can rise over the 7% mark with the right property.
This makes Edinburgh one of the most sought after areas for property investors, due to its consistency and reliability for steady investment opportunities.
TIP: Just remember, your estimated yield (annual rent divided by the value of your property) isn't always the best figure to pay attention to. It's prudent to look at your estimated return on investment and the potential capital growth of your property.
Jobs
As the home of the Scottish Government, as well as being home to the Scottish Parliament, Edinburgh has the third highest employment rate in the UK, at 75.6%. It's also the second largest city economy in Scotland.
Key employers include banking and finance (with the second largest global financial centre in the UK employing 33,000 people), public administration, health, and education.
There are also plenty of new and exciting opportunities in emerging industries, including digital and tech (most notably fintech), life sciences, creative industries, and software.
Amenities
There's plenty to do in Edinburgh, with a multitude of shops, museums, galleries, restaurants, pubs and clubs – as you'd expect in any capital city – but Edinburgh's also a central hub for culture and the arts, in all of its many forms.
During its various annual festivals (such as the Edinburgh Festival, and, of course, Hogmanay), tourists come from far and wide to soak up the atmosphere, attend the shows and theatre, and watch the varied array of street performers.
The other great thing about Edinburgh is that it has a lot of green space not far from the city, including areas like Princes Street Gardens, Arthur's Seat, Holyrood Park, Calton Hill, the Meadows, the Botanic Gardens, and various other parks scattered throughout.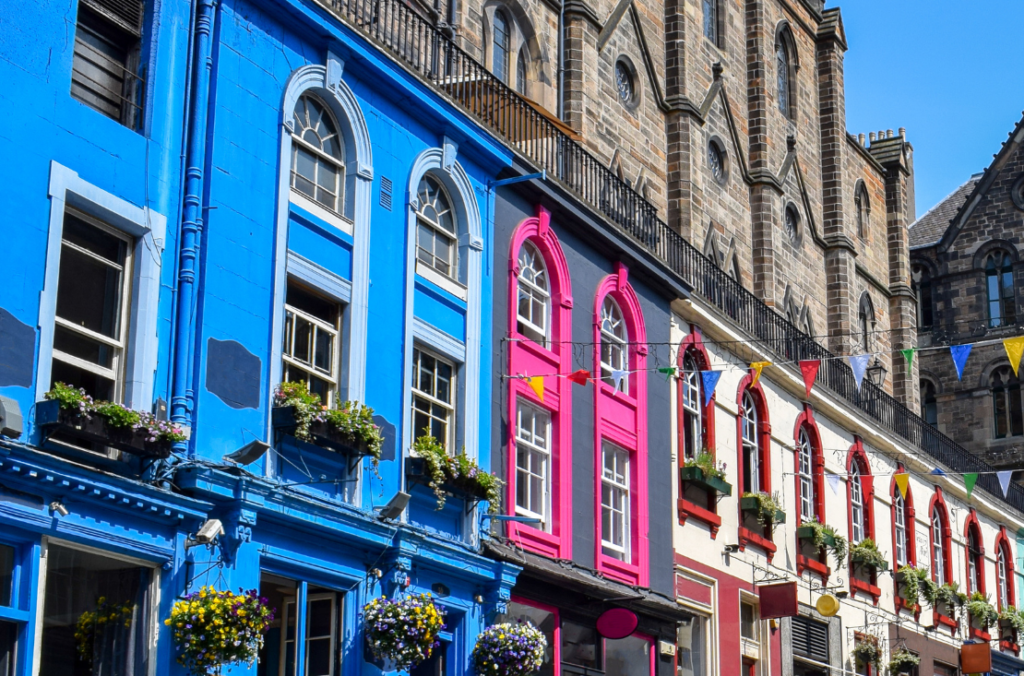 Transport
Edinburgh's roads are known for being quite congested, so when looking for a buy-to-let, public transport links are particularly attractive for tenants. You can get around just about anywhere on Lothian Buses' comprehensive network.
In addition, the Edinburgh tram network is currently being extended, with a new line running from St. Andrew Square, along Picardy Place, and all the way down to Port of Leith, Ocean Terminal and Newhaven – making these locations a potentially great opportunity for property investment in Edinburgh right now.
Variety
Currently there are multiple regeneration plans in Edinburgh, where you can find at various property hotspots such as the canal, the Royal Mile project, and redevelopment plans for the city's eight town centres (some in the works, some already in progress).
Regeneration in Edinburgh is all about embracing and enhancing the city's already striking features, and maintaining its distinct identity. For an example, just take a look at the Royal Mile, where you can find a wonderful mix of modernity and historical interest.
This fabulous balance means it's a great draw for urbanites and history lovers alike. The city's vibrancy means it's a bit of a cultural melting pot, attracting people from all over the world. And there's the Edinburgh Festival, of course, drawing over 3 million visitors every year.
Universities
Edinburgh's student population is impressive, split over its four universities, and coming in at an impressive 75,000, with a good amount of those students opting to stay in the city itself – even after they've graduated.
This makes Edinburgh the most educated city in Scotland, with over half of those employedholding a university degree to their name.
The universities themselves are spread all across the city, with many students favouring areas such as Marchmont, Abbeyhill, Fountainbridge, Slateford, Polwarth, Gorgie, Chesser, Balerno, Currie, Juniper Green, Dalry and Haymarket.
Quality of life
Edinburgh's well known for its picturesque views, with the highest number of green spaces in the UK (covering an amazing 49% of its area) – and stunning locations like Arthur's Seat and Calton Hill just a stone's throw away from the city centre.
This could be one of the reasons why it's ranked in the top 20 of the world's cities for wellbeing, scoring particularly well for happiness (11th), governance (12th), safety (15th) and work-life balance (16th).
Despite 68% of properties in the city being flats, it still has one of the lowest population densities in any UK city (although some areas – like Leith – are denser than others). However, Edinburgh's population is expected to grow by a further 100,000 over the next 20 years.
Advice from the property pros
Our nation's capital is certainly a promising place to look if you want to purchase a buy-to-let – and there's certainly no shortage of good, solid investment opportunities in the various districts of Edinburgh.
However, not every investment property necessarily means you're getting value for money, which is where your due diligence comes in. We always recommend thoroughly researching the area, and visiting the property in person to ensure it's right for you.
If it's your first time investing in Edinburgh, or you're purchasing remotely, here are some tips when attending a virtual viewing. We recommend these tips to all investors who are unfamiliar with an area, but it's also likely you'll attend a virtual viewing before a physical one.
TIP: I also recommend checking out our recent blog covering the main things to think about when investing in your next buy-to-let, post lockdown.
Looking for some more specific advice regarding property investment in Edinburgh?
In that case, it's probably worth your while speaking to a specialist estate agent (or two, or three), who can listen to your goals, and help you explore your options – including the option of buying an already tenanted property and receiving instant rental income on Day 1.
In summary
Thanks for taking the time to read, and I hope you've enjoyed some of the above insights into property investment in Edinburgh. It's certainly a city with a lot of heart, and a good alternative to investing in London.
If you're seriously considering investing in property, Edinburgh certainly isn't the cheapest option, but it is home to some great opportunities, with fantastic capital appreciation opportunities – giving investors the confidence that only a capital city can.
Even though Edinburgh property is above average in terms of value in Scotland, most of the stock is still very affordable in relation to the average wages.
Want some more advice about property investment in Edinburgh? We'd be delighted to hear from you, and give you some free tips – after all, we're known as the Estate Agent for Landlords.
Wishing you all the best with your buy-to-let investment journey.
Written by Ross MacDonald, Director of Sales & Co-founder of Portolio
Get in touch on 07388 361 564 or email to ross@portolio.co.uk