Are you curious about the way of things in Scotland's private rented sector (PRS) during 2020 and 2021? If so, you'll hopefully be interested to read the results of the Portolio PRS Survey 2021.
The survey is full of great insights from the landlord community; sharing thoughts, feelings and experiences on the year that was 2020 and what's to come next.
We carried out this survey because we care, and we're working hard to use this information in the right way. We want private landlords to do well and for the Scottish PRS do continue to be a vital component within Scottish Housing.
Back in February, in a phased release of the findings, we shared the results to only those who took part. Shortly afterwards, we werepleased our findings were also picked up in the news!
And so it's superb to be sharing this overview and full report with you now.
Who took part in the Portolio PRS Survey 2021?
We're pleased to say that 302 respondents took part; split into 217 landlords, 44 letting agents, and 41 property professionals, which includes surveyors, mortgage brokers and solicitors.
All in all, the survey collected data that relates to an estimated 10,000 private rented sector properties.
Following the unprecedented events of 2020, it's fair to say a few of you had some very strong feelings within the PRS. Again (and in case you don't make it to the end) a huge thank you to everyone who took part!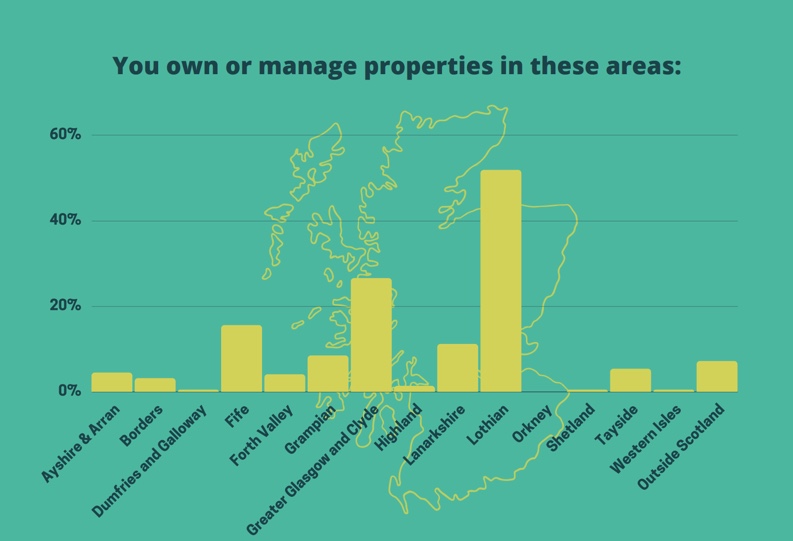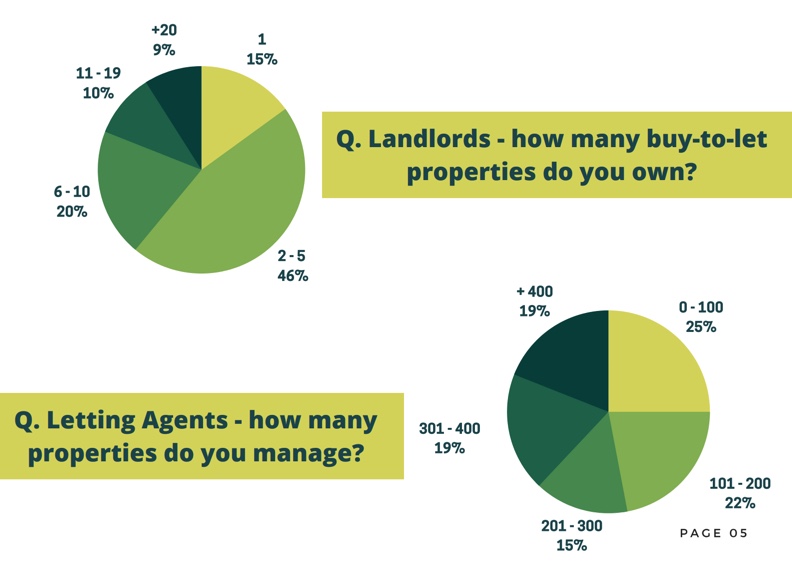 73% of landlords would still recommend buy-to-let as a worthwhile investment
Coming out of 2020, we considered this an incredibly strong and positive response from landlords, and a good signifier of your faith in the resilience of Scottish property market over the long-term.
This sentiment of confidence was echoed by property professionals at 94%, and letting agents who responded overwhelmingly in favour at 97%.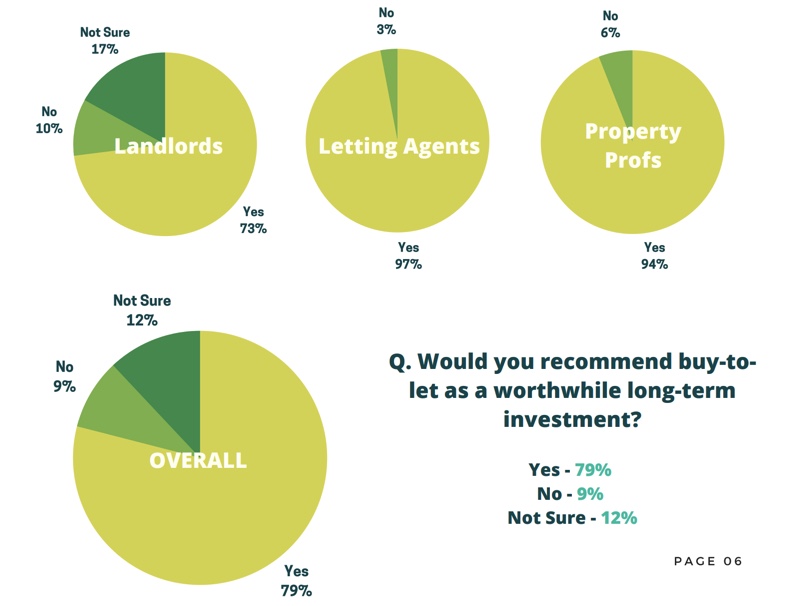 Almost 50% of landlords said they could change their strategy due to Covid
They weren't alone; in fact, 83.9% of property professionals and 84.4% of letting agents were of the same mindset – which makes perfect sense when you think about it.
Covid has changed what tenants are looking for (a garden, space to work from home, students remote learning in their family homes rather than in HMO properties)… so, it almost goes without saying that landlords must adapt in the face of change, too.
Some found themselves in difficult situations in 2020, with depleted savings, job insecurity, and other factors that may give pause for thought regarding their current properties and plans for the future.
On the other side of the coin, many have been very thankful for having an extra income stream during Covid-19 and have found property investment all the more appealing, as they look to double down on their efforts to achieve financial freedom.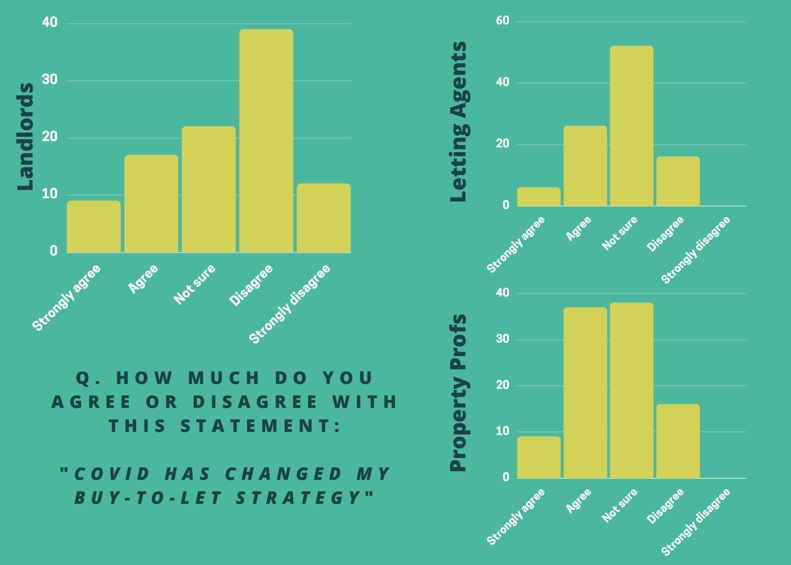 72% of respondents predict property price increase over the next five years
Overall, this is in line with what we'd hoped and expected from the Portolio PRS survey 2021, with landlords, letting agents and property professionals alike all having an optimistic outlook for the next five years.
Although admittedly, 38% advised they expect property prices to flatline over the next two years.
NOTE: As a caveat here, it's worth noting there will be regional variations depending on which part of the country you're interested in.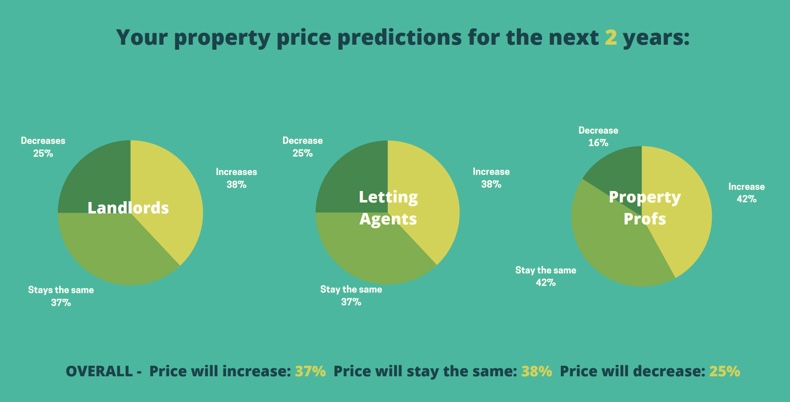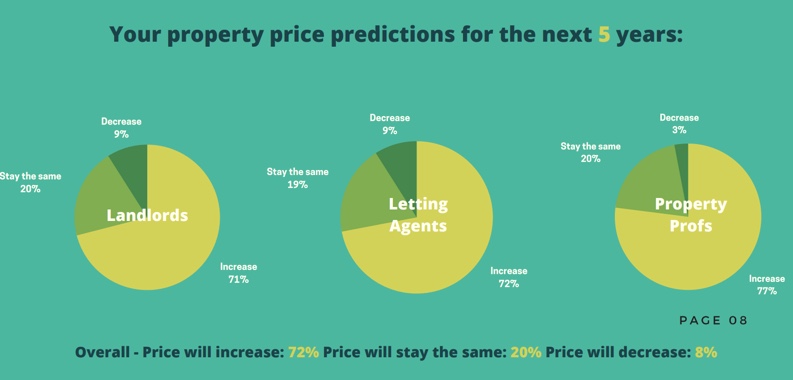 67% of landlords did not experience rent arrears in 2020
Non payment of rent is such a niggling source of worry for landlords that, if there was ever a time for rent arrears to raise their ugly head, then it would have been in 2020!
However, despite this, 67% of you did not experience rent arrears – whilst almost 80% of have experienced no increased rent arrears above 5% in their portfolio over the past 12 months.
That said, we do realise this is really no consolation if you're currently dealing with rent arrears. We know first hand how challenging that can be and we hope it resolves itself quickly.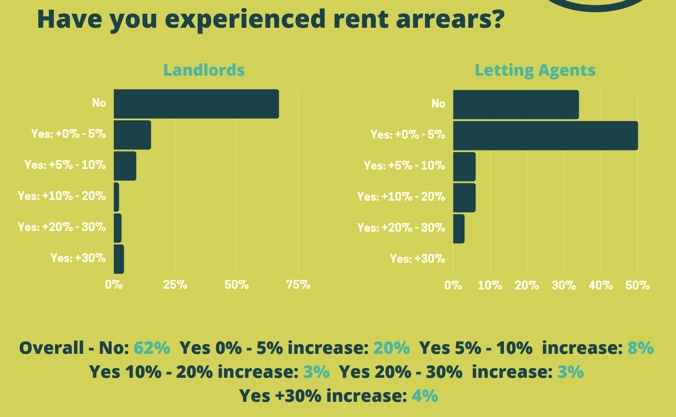 67% of landlords feel unsupported by the Scottish Government
With many of you feeling unfairly done by due to the recent tax changes (AKA Section 24), it hasn't been a surprise to hear that landlords don't feel supported by the Scottish Government – with 35.7% viewing the government as unsupportive, and 31.4% selecting 'very unsupportive' in your responses.
Interestingly, this was also the view of letting agents, with an even larger 77.4% responding that the Scottish Government were either unsupportive or very unsupportive to landlords.
Just a thought: with an excess of 300,000 private rental homes across Scotland, and a sector worth an estimated £46 billion, can you imagine if landlords simply decided to up and leave the PRS?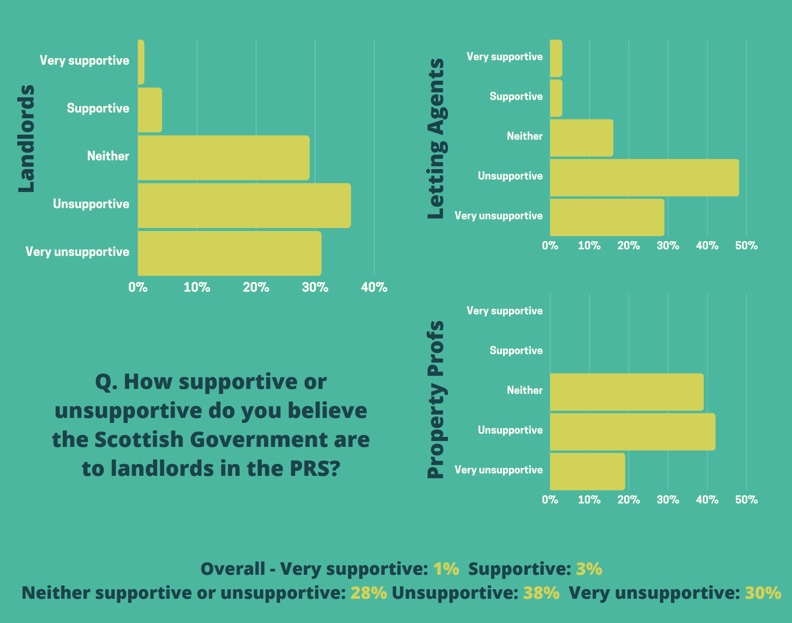 100% of landlords cited Section 24 as their biggest concern
Section 24; removes the landlord's right to deduct mortgage interest and other finance costs (such as mortgage arrangement fees) from their rental income before calculating their tax liability.
And the overwhelmingly one sided response to this question gives us a very clear picture of the level of frustration you're feeling about this particular tax change!
It's been such an impactful and challenging change to buy-to-let legislation and we know, from the many clients we've helped, that it's sometimes torpedoed retirement plans or forced a huge rethink on the way landlords run their businesses.
Section 24 was less of a concern for letting agents, who were more worried about rent arrears and voids, whereas property professionals surveyed were a bit of a mixed bag.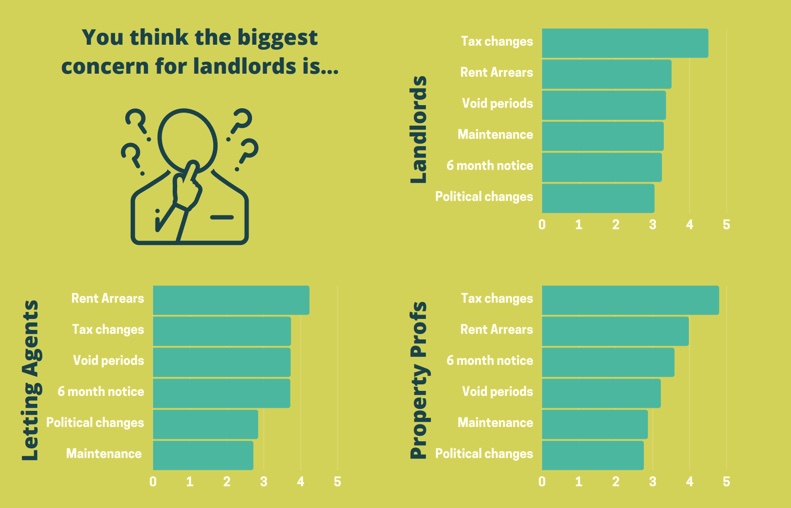 TIP: If you're particularly worried about being hit hard by Section 24, and only being able to claim tax relief on finance costs at the basic rate of 20%, check out our recent blog where we've provided some advice on the subject.
Reduction in ADS is at the top of landlords' wish lists
When asked to rank some of the things you would most like to see happen, the majority of landlords (over 30%) ranked a reduction in Additional Dwelling Supplement (from the current 4%) as their no.1 choice.
Hot on the heels of an ADS reduction was scrapping the six-month notice period that a landlord is required to provide their tenants when evicting them.
Many of you feel this legislation is far too heavily weighted in favour of tenants, and here at Portolio we agree there could be a fairer system that takes more factors into account.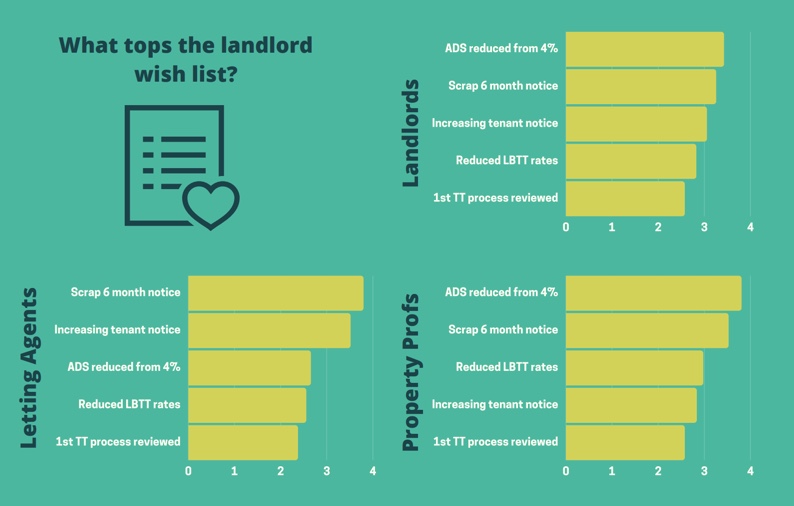 Our own thoughts
We've all changed our outlook on a great many things since the beginning of the Covid-19 pandemic – and property investment should be no different.
We know 2020 was a tough 12 months, and that being a landlord has been getting harder and harder. It's clear, though, that property investment still works. As an asset class, its ability to leverage funds is a huge plus and its long-term nature means it can ride the ups and downs.
Regular rental income is what all landlords want – so thinking about the type of tenant your properties will attract is more important than ever.
Overall, the signs seem positive that – beyond the discomfort we'll feel from furlough ending – the economy will adjust and stabilise.
You can read the full report here.
Conclusion
Some of our findings may have come as a surprise – others, not so much. But we do hope you've found the results from the Portolio PRS survey 2021 to be an interesting read – and if you have any further thoughts, please don't hesitate to get back in touch with us.
One last thing; conducting this survey has been an absolute pleasure, and so incredibly interesting. It's stoked our fires and we're more determined than ever to support all of you as much as we can.
If you're looking to learn more about buying or selling tenanted property, don't hesitate to get in touch with us, or simply leave a comment below – we're here to help.
We promise to read and reply to every message we receive!
Written by Chris Wood (MD & Founder) and Ross MacDonald (Director of Sales & Co-founder).
Get in touch on 0333 344 2855 or email us at property@portolio.co.uk